1,173 total views
A high bounce rate affects your online business performance. Track your online performance with your website bounce rate. Today, we'll share how a high bounce rate affects your online business performance. And how you can fix it.'
If you struggle to get high leads on Search Engines, it might be an issue with your website bounce rate. High bounce rate is not only your problem; several online site hosts face this issue. If you are one of them, don't worry. Pakchamp will briefly guide you to reduce your website bounce rate. Let's read the details;
A high bounce rate indicates your customer's poor lending experience. It shows that your website page is mismatched with your visitors' expectations. Ideally, online visitors bring queries and expectations when they land on your website. If your website page does not thoroughly entertain their questions, they'll move to another website.
A high bounce rate indicates;
Visitors didn't resolve their queries
Your on-site web experience is not proficient enough to entertain your visitors
On-page content didn't meet users' issues/ queries
There is a website error
Your website loading speed is too slowly
High bounce rates indicate your site visitors land on your page and abruptly leave without clicking to another page. Bounce rate is the percentage of single-page sessions on your site; it refers to visitors who leave from the same page where they entered.
Now it's a question, what's a good or bad bounce rate? An average rate falls between 41 – 55 %, but it completely depends upon website type, industry, and page type.
If you want to increase your website conversion rate – you need to increase your
landing pages. A high bounce rate on your landing pages means you need to redesign your website content marketing strategy to get leads on search engines.
Once you understand conversion rate methodology entirely, you can get prominent leads on search engines by developing an effective content strategy.
We'll break down the specific reasons that may increase the website bounce rate. Despite highlighting causes, we also help you fix them to generate frequent search traffic to your website. Let's tune with us;
Before hitting the main topic, we'll get to know about; what is a bounce rate?
What Is A Bounce Rate?
When you're working hard to get search leads on search engines, you need to reduce a high bounce rate. In other words, a high bounce rate is a poison for your website, which may lead your website to death. A high bounce rate predicts that your user (e.g., customer or reader) visits your site' page and leaves without visiting other pages of your website's same domain; that's what we call a bounce. Your bounce rate is the percentage that indicates the number of users who enter and exit on the same page without any clicks to other pages on your site.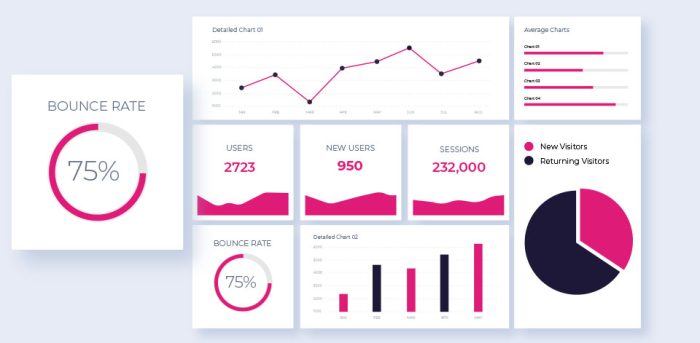 You can measure your site bounce rate by dividing the number of single-page views by the total website sessions.
A high bounce rate indicates you don't have an enticing, well-organized landing page that'll create CTA confusion on your main home page.
According to the Google Analytics rule, website visitors will need to click at least one additional page to lower the bounce rate.
What Will Be The Average Bounce Rate As Per Page Category? 
When looking at Google Analytics, you can compare your average bounce rate with your competitors. Average bounce rates depend upon industry type and user intent; consider these averages as a steady benchmark for improvements.
25% or lower: Something is probably broken
26-40%: Excellent
41-55%: Average
56-70%: Higher than normal
70% or higher: Bad / something is probably broken
Mobile VS Desktop Bounce Rates
With the rapid growth of technology and transformation, social media empowered users searching on mobile devices. It is necessary to format your website for both mobile and desktop users.
Mobile Bounce Rate 
According to recent statistics, around 60% of all searches on the internet are completed from a mobile device. On the internet, most users rely on mobile. When developing your website, consider how your mobile UX experience contributes to your average bounce rates.
If your page load time goes from 1 to 5 seconds, the probability of bounce increases by 90%. To get a prominent lead, you need to make your website mobile and user-friendly to navigate.
Desktop Bounce Rate 
Desktop users are interested in reading and researching; they want to dive deeper into the information they desire. Fortunately, the lower bounce rate frequency for desktop users can help even out the higher bounce rate of mobile users.
Ideally, the website page load within 2 -3 seconds. Approximately 40% of online users will not wait more than 3 seconds.
Reasons For High Bounce Rate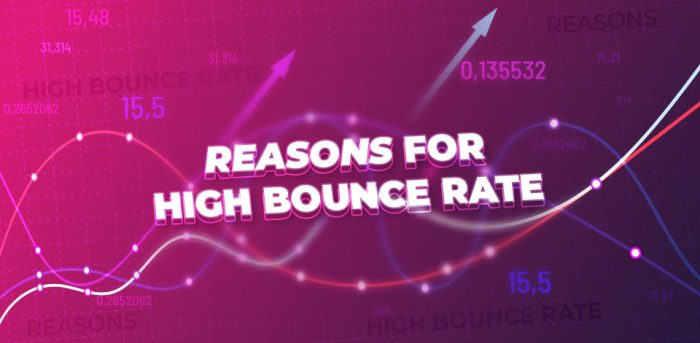 A high bounce rate indicates your website's low page performance. If you want to reduce your website bounce rate, you need to find common reasons people aren't engaging with your site. Here are common causes of high bounce rates; let's check;
Low-Quality Content
Online users bring some queries to your website, and they want clear them with a brief and sold justification.
Dense text that isn't scannable for site visitors. If you want to entertain your site visitor professionally, compose your content with relevant headings in chunks of forms, bold words, and visual reinforcements for users to spend time on your website despite long descriptions and text.
Solution: Compose high-quality content by the following characteristics:
Unique and original
Addresses real user issues and queries
Give unbiased review by covering both sides
Brief and comprehensive
Well-formatted and structured
Mismatch Keywords 
keywords play a crucial role in driving traffic to your website to build your authority and convert visitors into buyers. Misleading or mismatched keywords will instantly increase your website bounce rate.
Solution: When you choose keywords to keep your potential buyers' intent:
What do they frequent search?
How to resolve their expected queries?
What are they more likely to search related to your niche?
Compose your website content by focusing on all of the questions. If you entertain your site users with accurate answers, you can quickly reduce your bounce rate.
Misleading Title Tag / Meta Description
Before posting your content, make sure your title tags and meta descriptions accurately summarize your content. Misleading titles and tags increase your website bounce rate because when your user does not explore their expected content, they'll bounce back to where they came from.
To write the best page titles and relevant meta descriptions, consider the following suggestions;
Make unique title tags
Consider the length while composing title tags and meta description
Use relevant keywords and phrases in page tags
Avoid keyword stuffing
Tags and meta description summaries page accurately
The page title should be longer than 30 characters and shorter than 60 characters
The meta description should not be more than 150 characters
Broken Links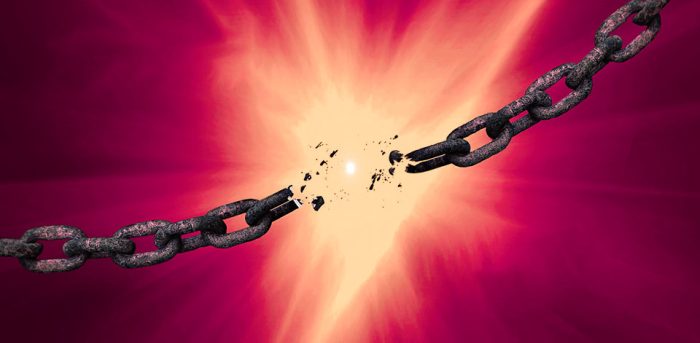 A broken link doesn't work; when you type in or click on the link, they will be directed to a 404 page or error message. There are several reasons for broken links, including mistyped URL, expected webpage no longer being online, and page's URL having changed.
Any old links on your website and other pointed issues may create frustration in your site visitors, which provokes them to leave the site.
Solution: When you experience broken links, you may take a few steps to resolve issues;
To fix the broken links on your website:
Run your website through a tool like Broken Link Checker
Once you have a list of broken links, fix them
Fix the broken outbound links on a priority notice to improve your website user experience
It's the most challenging step to deal with broken external links. You can't control what other site hosts do, and it's not a piece of cake to identify the broken links out on the wide web. With the help of Google Search Console, you can figure out a few of them. Once you find it, click on Crawl Errors, a list of links that Google experienced on their crawls. Click on an individual link, then click on Source to check where it's coming from. You can't do anything until and unless you know the webmaster.
Cheak, Analyze & Improve
After updating your user's intent to match keywords needed to improve UX details, as with all other marketing KPIs, you are reducing your average bounce rate requires time and testing to get optimal results. Analyze, check and improve from time to time when your website is needed.
Solution: Google Speed Test is an excellent way to check where you stand before and after adjustments. Clean up cluttered pages of your website and break your on-page content into multiple chunks, as dense pages can quickly scare off users.
Mobile User Experience
As we mentioned above, approximately 60% of internet users access various web pages from mobile devices. After finding this trend, Google Analytics has to start prioritizing mobile metrics. If you want to offer users friendly experience to your site visitors, your website must be optimized for both forms of traffic. More than 2 to 3 seconds of delay means your visitor will exit to search for the next best competitor.
Solution: upgrade your website's mobile user experience by following:
Use a task-based design
Add a precise menu/ search bar
Don't use too many fonts sizes
Clear, legible text
Easy to click links
Shorter load times per page
Optimized imagery
Don't add too many colors to your design
Poor Website Design 
The first impression is the last. Online users land on your website page with certain expectations. If your website develops fully left-aligned layouts of the early 2000s, it will create an unpleasant impact on your users, and they will assume your information is similarly out of date.
Solution: For a cutting-edge website solution, you need to consider;
Balance your web page layout
Could you keep it simple?
Fix your fonts
Clean backgrounds
Enough white space to make reading and scanning easy
Easy navigation
Use eye-catchy shades
Suppose you need well-crafted designs for your business website. In that case, Pakchamp web designers are available to offer digitally transformative feature-packed web designing solutions with unbeatable usability to empower your brands.
Neglect Usability
Spouse, you have a beautiful, cutting-edge website design, but your site still faces usability issues. People come up with a problem if they find your website hard to navigate or confusing; they'll move to another option.
Solution: Don't try to reinvent the wheel by developing an overly abstract website, and do follow the below-mentioned suggestions;
Keep navigation menus simple
Focus on Readability
Suitable color selection (ecology viz shades of green, brown, or blue)
Use customized images
Limited scrolling (horizontal or vertical mode)
Not asking for unnecessary information from the user or filling out lengthy forms
Highlighting new arrivals or essential products or services
If you are looking for a professional website development company in Pakistan, we provide easy-to-use website development services affordable. Change your business face by hiring an experienced website developer for your website that is ready to deliver result-driven development projects to boost your online business.
Too Many Pop-ups/ Ads
The online user is always in a hurry; approximately 68% of online users block such sites that have pop-ups and the ad. In general, online users don't want to hang out in places that feel bombarded by advertising.
Solution: If you're planning to run ads on your website, do A/B testing to determine the best designs that don't drive people away.
SEO experts mainly focus on keywords, meta tags, and backlinks to optimize your website or web page. From the detail mentioned above, you get an idea that bounce rate indicates user engagement that can't be ignored. If you want to reduce your website bounce rate  read Pakchamp's Tips To Reduce  High Bounce Rate;
A high bounce rate damages your online business reputation and indicates several website issues that will affect your search engine ranking. Monitor your website bounce rate over time to identify low-quality content, misleading meta descriptions, irrelevant titles, highlight navigation issues, and batter web page design.
I hope from today's blog post that you'll be aware of the reasons for the high bounce rate. By resolving all the issues mentioned above, you are able to get a better position in the SERPs.
More Resources: