419 total views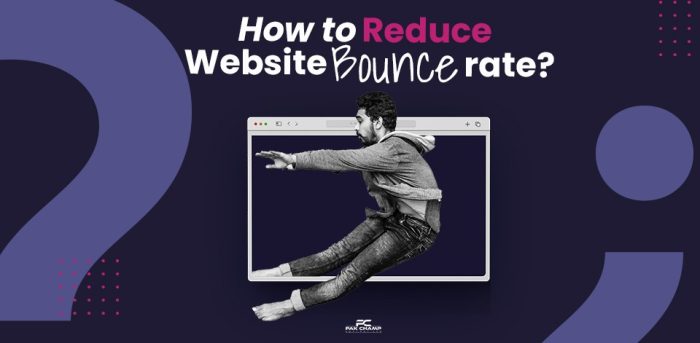 If you are trying to marketize your business and target a massive audience, it is important to know the bounce rate of your website. A high bounce rate will be a devastating factor in your online presence.
Your hosting services will make you or break you. There are multiple web hosting companies in Pakistan that claim to offer reliable, fast, and secure hosting infrastructure at affordable prices. So, prefer to opt for reliable hosting services.
If you display unique content, your website visitors are still not engaged. As a result, your website conversion rate will suffer, revenue falls, and your cant marketing ROI slumps.
In today's blog post, we'll discuss;
Table of Content:
What Is Bounce Rate?
What's a Good Bounce Rate?
Why Is It Important to Control website Bounce Rate?
High Bounce Rate reasons
Tips to Reduce Bounce Rate
Let's dive with us to the next section of blog post to get more about bounce rate:
What Is Bounce Rate?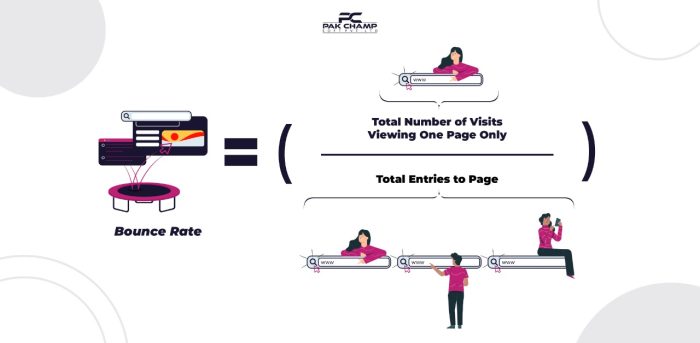 Bounce rate is defined as the percentage of your online users that leave your webpage without any infractions or action, such as clicking on a link, filling out the form, or making a purchase.
Technically your website can't have a 0% bounce rate, even though you have very few site visitors. Not every site visitor who is landing on your website will be interested in making a purchase. However, there are specific ways to reduce the bounce rate of your website; in this section, we'll share some of them.
What's A Good Bounce Rate?
Multiple factors include bounce rate like; website age, niche, page speed, etc. In the next section of the blog, we'll highlight the industrial bounce rate;
Websites Bounce Rate
Websites
Average Bounce Rate%
Retail and eCommerce sites
20% – 45%
B2B sites
25% – 55%
Lead generation site
30% – 55%
Non-eCommerce sites
35% – 60%
Landing pages
60% – 90%
Blogs/news sites
65% – 90%
Blogs typically have high bounce rates rather than eCommerce sites. Moreover, it also depends on where your traffic is coming from. It also counts whether you receive your website traffic from the paid campaign or organic search for consistent online performance.
According to GoRocketFuel's report;
'An average bounce rate near about 41% to 51%'
If still you are confused about 'what a good bounce rate is,' compare your bounce rate to another niche. You can quickly analyze your bounce rate through tools like Google Analytics.
Why It's Important To Control Bounce Rate?
You know what bounce rate is; now, let's talk about its importance in your online presence. Don't forget this, the user landing on your website page is likely interested in your services or products. Your content and services failed to convince him to buy if they bounced off right away.
According to the Backlinko report;
'Low bounce rate is likely a ranking factor on a Google search engine, and display you on the first page.'
A high bounce rate indicates there is something wrong with your website; it may be in the context of a design flaw or maybe for poor quality content.
High Bounce Rate Reasons
Technically it's impossible to improve your website performance or lower your site bounce rate without knowing the basic reasons. So, let's discovered the main reasons for the high bounce rate;
Page Isn't Fulfilled Audience Expectations
Spouse user searches for 'best dry cat food' and land on your website page, and you are talking about the quality and advantages of dry cat food. Within a few seconds, they may bounce off because the person is not interested to know the quality and advantages of dry cat food; he is only interested in buying dry food for cats.
Website Messy Design
The first impression is the last. Your website is your outer face, what you are selling. Online users judge your credibility and professionalism through your website. Most users bounce off right after landing on the webpage due to unprofessional, messy, and hard-to-use website designs.
Bad UX
That website that is not easy to use or navigate doesn't attract online users. A complicated website design will increase your bounce rate. Technically easy to find will cause a lower bounce rate.
Users Found What They Needed
A user looking to read about democracy may land on your blog, skim the blog in a few seconds, and close it because they are not interested in anything else. Don't forget your user opens multiple sites at once – they would close your site if they don't find what they require and move to another site.
Tips to Reduce Bounce Rate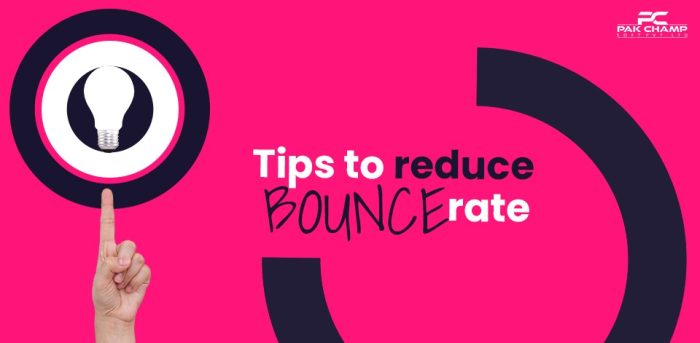 To resolve all of the points mentioned above, we make sure you'll reduce the bounce rate of your website and soon observe all green-lighted on your website. Here in this blog section, we listed 11 tips that will help you engage the site visitors you already have. Check it out.
Add Videos To Your Page
A website that contains videos tends users to spend more time on it. According to Wistia;
'Online users spent an average of 2.6x more time on those pages containing video.'
People tend to attract to visual content. Technical people's visual memory long last as compared to what they read.
According to Backlinko;
'Embedding videos on your web pages can reduce approximately 11% bounce rate. '
For embedded videos on your website, you must get hosting services from the best web hosting company, which will offer rocket-fast hosting services with a high uptime guarantee.
Add A Search Bar
 The search bar on your site helps users find what they need. Keep the search button broad and visible for your online audience when you build your website.
According to experts;
       'Search box consist at least 27-character wide.'
Small search bar Not many people pay attention to this fact because it is possible to type longer queries even in short boxes, but your users will not see the entire query due to the small bar.
A perfect option to solve this problem is to introduce a dynamic search bar that gets bigger automatically as one starts to type in the box. Second, you can make a sticky and fix bar at the top so your users can easily find it.
Loading Speeds
Online users are generally in a hurry. If your users experience slow loading speed, they won't remain on your webpage. According to a Decibel Insight report
'Approximately 72% higher bounce rate experience those sites that are slow in loading'
If your website takes more than 3 seconds to load, it is prolonged. Therefore, for speedy online performance, your website pages must be able to load in less than 2 to 3 seconds. Since fast-loading websites have low bounce rates, it is more likely to rank highly within Search Engine Result Pages (SERPs).
To avoid this problem, ensure that you select the best Web hosting services in Pakistan for constant online performance.
Display Special Deals On Your Page
To draw attention to your users on the internet and improve your conversion rate, you can display events-based offers to grab your users' interest. In this way, you can use discount codes that make your customers want to go to other pages and remain on your website for a prolonged period.
Use Smart Formatting
We have already explained that your visitors don't enjoy messy websites. If your site is visually dull, nobody will stay for longer. To increase your website's impact on the eyes; Here are some suggestions to consider;
Make small paragraphs
Utilize visual effects (videos and images)
Be sure to use spacing within your content
Use Subheadings
Use bulleted points to draw the attention of your customers
All of these suggestions will allow your visitors to skim through your content and assist in finding relevant content that they're looking for.
Compare Time Spent & Bounce Rate
In the initial stage, figure out if the issue is on a specific page or the whole site. The amount of time you spend on your website is extremely crucial.
If your visitor spent time on your site, but the bounce rate is very high, then there could be issues with the content of specific pages. In the same way, if your bounce rate is high and the amount of time spent is low, then the content could be misleading to your visitors. Compare various figures to determine the causes for bounce rates that are higher.
Get Rid Of Distractions
There are many options to choose from due to distractions. Also, information overload, as well as using poor fonts, affect your website negatively. Simple design, less clutter, and remove distracting elements from your site.
Offer The Right Help
Online users don't have enough time to communicate via mail, phone or messages.
They'd like to get their required answer when they need it. Therefore, ensure that you include an FAQ section on each page. Also, include a detailed information section or resource that can address all their concerns.
Improve Your Content Quality
High-quality and unique content will boost your conversion and decrease your site's bounce rate. There are a few aspects your content should cover;
Content should be relevant and informative
Make sure your keywords are accurate and you have the proper density on your pages
Use subheadings and headings
Add jumpable table
The aspects mentioned above will help you decrease the bounce rate and keep users engaged with your site.
Internal Links
If you're looking to achieve a meager bounce rate, ensure to implement a suitable internal linking method. Internal links are constantly engaging your customers and encouraging them to navigate to different pages' content. Be careful not to do it by adding links. If you do, your website appears messy and not professional. The best approach is to use links to your services and content sites.
Remove Ads
Ads can be annoying, and therefore a significant number of users on the internet use ads blockers. We recommend using only native ads. Because they don't affect the website user experience.
Use Exit Popups
You can boost your website's conversion rate with exit-intent popups, and Popups are not popular with people. You should think twice, look at your bounce rate, and think again if you're using them.
Reliable web hosting services are essential to your web presence. For this and you have to purchase web hosting  pakage from professional hosting provider who'll offer business hosting services at an affordable prices. In the context of the above information, you will be able to keep your site's traffic and increase engagement. The attempt to lower the bounce rate can benefit the brand's image.
You should begin to identify your internet issues and resolve the issues. To improve business opportunities and establish an enduring connection with your client!