134,791 total views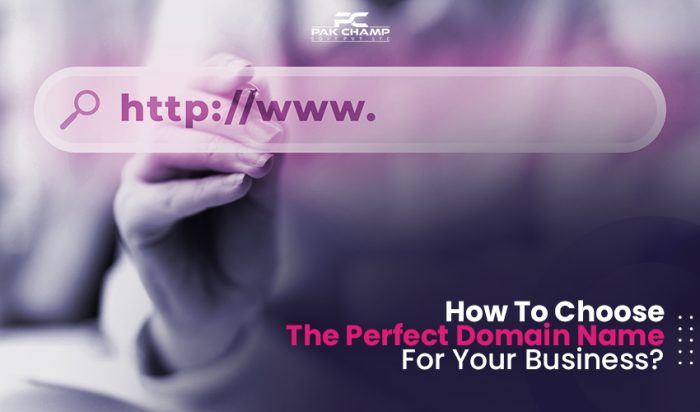 A domain name is more than a URL where online users can approach you. Unfortunately, picking the right domain name is daunting for website hosts. Website hosts mostly need clarification while choosing domain names for their websites.
To build brand identity in your competitive market, choose a relevant domain name and extension. Right and relevant domain names open a door for online users to visit websites and make a purchase. It needs a sense of accuracy and professionalism while picking a domain name. 
When you pick a domain name for your website, consider below mention points;
Is your domain name representing the product or services you are going to showcase
Should you use relevant keywords in your website URL?
Is it brandable?
Now, a question comes to your mind; what is a domain name, and how do you choose the right one? If you are starting with this online thing, you may have heard you need a domain to make a website. People usually need clarification about buying domain names with website hosting services, but both are different.
To fully understand how to pick a domain name, you must first know what a domain is. Let's have a deep look;
What Is A Domain Name (URL)?
A domain name or URL – the online address of a website. To access the website online, users must type the domain name in the browser URL bar to visit a website. A domain name is the digital address of your website, just like your home or apartment address. It would help if you had a domain name within their reach to showcase your product and services on the internet.
Top 10 Tips & Tricks To Choose The Perfect Domain Name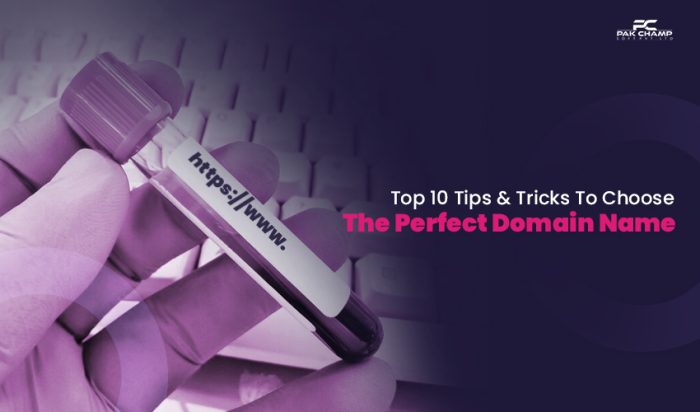 We live in the digital era, where people prefer to purchase online rather than to get fatigued in physical shopping. Therefore, to get a high lead in your competitive market need to pick relevant domain names and extensions to represent ourselves in your target market. 
When you start researching the domain name, you may get confused or struck because thousands of domains are already registered on the internet. So, choosing a unique domain name to stand out in the online market is very crucial for the success of your business. 
Represent your business with the wrong and irrelevant domain names. It'll be a hassle to switch in the future without causing a setback to your brand/business. to avoid such an awkward situation; we recommend you choose the best domain name from the tart to display your brand. 
When you set up your new online business, picking catchy business name ideas with a perfect domain name extension can be challenging. In the upcoming section, we'll briefly guide you in choosing the perfect domain name to build your business. let's check the guidelines;
1. Use A Domain Name Generator 
Do you know how to pick a domain name? 
If not – don't worry!
Domain name generators make this process productive and easy for website hosts to choose the right domain name. In addition, by using a domain name generator, you'll get a wide variety of relevant keywords or phrases for your brand.
Here are some of our most popular domain name generators you can try such as;
Wordoid This tool comes up with ideas that contain words at the start or end
Lean Domain Search This tool matches your suggested keyword with other keywords and generates a list of available option
DomainHole This tool allows you to search keywords, find expired domains, generate new names
2. Pick A Relevant Domain Extension 
Domain extensions are suffixes, such as .com, .pk, and .net, at the end of web addresses. These suffixes also have their symbolic representations, so make sure to choose one that is relevant to your business. 
When you start researching to buy a domain, you'll find uncountable domain extensions in the market. Which one is best suitable for your business it's the main point.
You may observe the domination of the .com domain extension on the internet. It is true .com domain extension is one of the most usable worldwide.
According to research from Domain Name Stat;
Approximately 37% of businesses online have the ".com" extension.
Now is a question in your mind Why do they all prefer to buy .com domain extensions?
 ".com" is the most familiar and accessible domain extension to remember. However, other domain extensions are also popular, such as; pk, .com. pk, .net, .org, and much more. 
In short, domain name extension selection depend upon your website niche and targeted audience. For example, if you want to target your audience from all over the world, then the .com domain name is best suited for you. on the other side, if you want to target your local Pakistani audience, then the .pk domain or com. pk domain name extension is best to target the local audience.
There is multiple popular domain extension you may find with their specific segment. Let's check the details
co-an abbreviation for company, commerce & community
.info– suitable for informational sites
.net– used for technical, Internet infrastructure sites
.org– used for non-commercial & nonprofit organizations
.biz– used for business or commercial sites
.me– best suitable for blogs, resumes, or personal sites
Note: Avoid weird or unfamiliar domain extensions like ". club", ". space", ". pizza," and so on.
3. Brandable Over Generic
A unique and brandable domain name is better than a generic one. Brandable domain names help stand out in your competitive market, while generic ones are stuffed with keywords.
According to analytics;
Approximately 77% of online customers prefer to make purchases from familiar brands.
Now is a question in your mind, how to pick a brandable domain name? if you want to choose a brandable domain name, then you need to do the following;
Create new, unique and catchy words
Use a thesaurus to find interesting words that fit your brand needs
  Use domain name generators to create a unique, brandable domain name 
Remember: Your domain name shows how you define your business or services to your potential customers. It must be brandable to upgrade your business.
4. Short Is Better Than Long
Domain length is essential when choosing a domain name. in the context of domain length short domain name is better than a lengthy one and is too complicated.
According to research, domain name length is approximately 12 characters.
Most likely, the shorter domain names are easy to remember and sold for thousands of dollars. If you can't find something short, make it brandable.
Our site – pakchamp.com, is exactly 08 characters.
5. Easy To Type & Pronounce
Long and complicated names are hard to remember for online users. If I asked you about the most popular websites in the world, your answer would be; Google, Facebook, Twitter, Instagram, Skype, Yahoo, BBC…
Do you know why you remember all this? 
They're all easy to spell…
Your website URL should be able to type and remember. If you have to explain the spelling more than once, it means it's too complicated!
If you choose a long, difficult-to-pronounce or spell domain name you're your website; there is a great chance to lose your potential buyers due to the chances of mistyping your domain!
Now it's a question you can test your domain is easy to remember for your potential customers.
For this, you share your domain name with 12 people and ask them to spell it. If they are reluctant to spell or pronounce it, you need to simplify it.
6. Avoid Hyphens & Numbers
As mentioned above, your domain name should be easy to spell and pronounce. Unfortunately, hyphens and numbers complicate the domain name for online users. 
People don't like to learn or remember complicated things.
For example, if Pakchamp had a hyphen between the "'Pak' and the 'champ.'"
With such an addition, Pakchamp might be complicated for its users to type or remember if that was the case.
The bottom line is; Your domain name should be easy, unique, and punchy – hyphens and numbers complicate it.
7. Add Niche Relevant Keywords 
Keywords are vital in attracting potential buyers and getting a higher ranking on search engines. Using relevant keywords to your niche at the beginning of your domain will create the most powerful impact on your ranking.
To get relevant keywords, you can take help from Google Keyword Planner and Keywordtool.io to build your strong website address.
8. Think Long-Term To Expand Your Business
Before picking your domain name, think about the long term. It's complicated and mental fatigue to change your domain name.  
For example, if your company deals with web hosting or domain hosting services, then you could choose a domain name like "powerhosting.com"
Suppose you think there's a chance you might expand to more general digital marketing services in the future, like google ad ward, social media marketing, and digital marketing. In that case, you need to reconsider your domain name.
You don't want to fix a specific niche if you plan to expand your business.
Note: Always prefer to make a long-term business plan while picking your domain name.
9. Check If It's Not Trademarked Or Already Taken
When you finalize your desired domain name, check it once. It's easy to check the trademark or social media network with tools like Knowem. But first, search your potential domain name – it'll show you 25 top results if available.
To build your brand identity, having the same domain name on your social media accounts is necessary to build familiarity among your customers.
Note: Avoid domain names that already have trademarks- prefer to create original social media profiles.
10.  Claim It Before Someone Else Will Claim
There are thousands of new domains registered every day all over the world. If you find your desired domain name, claim it before someone else claims it. Website hosts are always searching for a suitable domain name for their brand representation for a broad business range.
Picking The Reliable Domain Registrar For Your Website
Once you plan to buy a domain name, you'll need to choose a reliable domain registrar or company to purchase from. Here in this section of a blog post, we'll recommend a few things to keep an eye on:
Domain Transfer Policy. Check out your potential domain registrar's transfer policy to avoid complications.
Price. Before making purchases keep an eye on prices. Some domain hosting companies and registrars offer lower prices in the first year and then increase their renewal.  
Expiration policy. Professional domain hosting companies give you official reminders before expiration. Look for a registrar that offers automatic renewal to sustain domain ownership. 
Domain privacy protection. Privacy and protection is the main requirement of every site owner. When buying a domain name, you must add your personal information to a public database. If your domain host offers privacy protection, your primary contact information will be safe and secure.
Subdomains. You don't have to register subdomains; make sure your registrar makes it easy to add them to your site.
There are plenty of domain registrars you can find during your search. Always choose the best and most reliable domain registrar to register your domain name to build your business empire on search engines.
How To Get A Free Domain?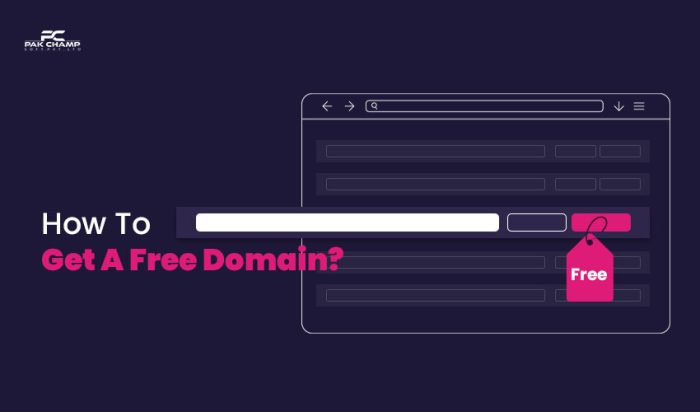 You may hear this phrase; buy one get one free -as an available discount for all customers. Web hosting companies in Pakistan offer free domain names with their hosting plan. For example, at Pakchamp, we provide a free domain name when you sign up for one of our shared hosting plans.
For a free domain name, you can choose Pakchamp; we offer free domain registration with our shared hosting plans or website building plans, where you can get a Free domain without paying an extra fee or hidden charges.
A domain name is your online address, so choosing the right, relevant, and unique domain name is necessary to build your business identity. I hope you'll get the best and most appropriate domain name for your business website from the above recommendations. 
If you have any confusion or issue while registering your domain name for your business/brand, feel free to contact us to get professional assistance.