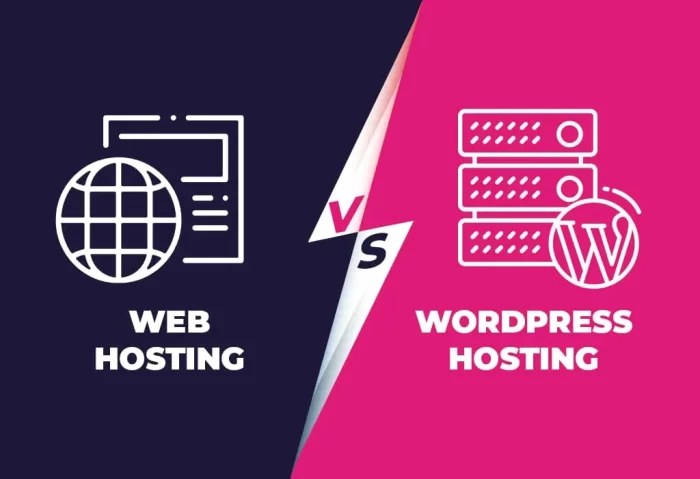 To host a WordPress website, there are multiple confusions arise in the mind of WordPress website hosts; do they need to get special WordPress hosting services to host their website or not? For this, it's important to understand the difference between WordPress hosting and web hosting services. Choosing the best hosting plan that suits your website can help you to ensure your website is in safe hands.
The main difference between wordpress hosting and web hosting is their hosting features. WordPress hosting plan is specially designed to make your website reach at peak by offering some additional features like premium plugins, a secure hosting environment, and an easy-to-use user experience with WordPress hosting features.
In this article, we'll compare both types of hosting and help you determine which option is better for your WordPress site. Let's go!
WordPress Hosting vs Web Hosting
WordPress and Web hosting services have great differences in their hosting features. Web hosting term carries several plans indifference of costs and features. It is a customized hosting plan specially designed for people who run WordPress websites. 
Due to immense WordPress hosting features, WordPress hosting services get their popularity. Approximately 44% of websites are built on WordPress, which means there's enough market for web hosting companies to offer customized hosting services for WordPress website users. 
Web hosting is a generalized hosting term that refers to any hosting service that stores a website's files on a server to make them visible on the Internet. Hosting companies cater to a wide range of hosting plans to meet their customer's hosting needs. All web hosting plans have sufficient hosting to host WordPress sites and make them accessible to the public. 
We'll compare WordPress hosting with a shared hosting plan to give you a brief understanding. Check out the comparison table for a brief understanding of both hosting;
Difference
WordPress Hosting
Shared Hosting

Price

3,800 PKR/Yearly

3,038.00 PKR/Yearly

Storage

3 GB SSD Storage

3 GB SSD Storage

Bandwidth

Unlimited

Unlimited

Additional Features

5 Databases

4 Sub Domains

0 Add-on Domain

10 Emails

Optimized for WordPress

cPanel Linux

24/7 Support

99.99% Uptime Guarantee

Databases

1 SubDomain

2 Emails

cPanel Linux

99.99% Uptime guarantee

24/7 Support
What is WordPress hosting?
To host WordPress websites, web hosting companies especially design a hosting plan that's been optimized to run WordPress websites. The most common form of WordPress hosting you'll find is shared web hosting. WordPress Hosting is a more optimized form of Shared Hosting.
At our WordPress hosting options are built and optimized specifically for WordPress websites to offer maximum performance with robust hosting service at a competitive discount rate.
WordPress Hosting favors WordPress website hosts to customize their site as their audience grows. offers abundant plugins in its WordPress hosting plan that our technical team can add as per customers' demand.
Advantages
WordPress hosting companies offer prolific hosting features in their hosting accounts to facilitate the utmost level of WordPress website builders.
WordPress is pre-installed and easy-to-use website hosting that is specially optimized for WordPress website top notice performance.

All accounts on the server receive the same custom maintenance.

Servers can be set up to safeguard from possible cyber threats by using firewalls, DDoS protection, and SSL certificates.

If you have a question, customer service reps from WordPress experts can more than likely help solve any issues.

WordPress hosting follows the cloud-based hosting infrastructure for scalability.

Most WordPress hosting plans come with easy-to-use website builders and include free premium themes, plugins, and automated backup solutions.

WordPress hosting ensures automatic data backup with Code Guard.

 It has pre-installed plugins that make your website development easier.
From the advantages mentioned above of WordPress hosting, you know very well how much WordPress hosting services are beneficial for your WordPress website. 
Every hosting plan has some advantages and disadvantages. Before finalizing your hosting, option or signing in, you have to have a complete understanding of its disadvantages as well. Let's dive into more details to know WordPress hosting disadvantages.
Disadvantages
Before proceeding with WordPress's disadvantages, keep one thing in mind; No CMS is perfect for everyone. Despite its multiple strengths, WordPress development has a few caveats. Here is today's blog post; we'll briefly discuss a few. If you choose WordPress to develop your website, consider the following disadvantages, such as;
It would help if you had multiple WordPress plugins, some plugins are free, and some are not. 

Everything is not permanent; remember that in the digital age, just like website themes or plugins. To make I n progress, you need to be updated. 

WordPress is still a slow platform due to its additional plugins, oversaturated databases, and codebases.

WordPress only offers limited SEO optimizing features, which is not enough to help you rank on Google search engines.

No one on the Internet will be safe from cyber-attacks. Due to the immense popularity of WordPress, hackers, and spammers rapidly attack WordPress websites. Even though security plugins are not enough to keep your website safe.

Websites can go down for many reasons without notice that'll negatively impact your business website.
What is Web Hosting?
When web hosting companies allocate specific space on their web server to store the website's files with variable hosting features. Website files based on code, images, and content that are available for viewing online customers. 
The amount of space you have been allocated on a server to host a website depends on the hosting. When you start wondering about website hosting plans, you may encounter multiple hosting plans such as; shared, WordPress, business, windows, unlimited, Magento, reseller, VPS, and dedicated server hosting services. They are all different based on their hosting features, kind of technology, level of management, and additional services.
The world of Web Hosting can be pretty vast and technical, but in easy terms, web hosting is nothing more than a service to ensure your website is accessible to online users. offers many plans and packages to meet customers' needs. 
If you're planning to build your online business, reliable web hosting is essential for a smooth online web presence. When you start researching hosting services, you may find hundreds of web hosting companies with a wide range of hosting plans. The plan you choose to host your website will depend on your website niche, traffic, and your hosting budget. Choosing a reliable web hosting provider means having access to your targeted audience with fast-loading speed and security features to build your customer's trust.
Advantages
The right web hosting plan will improve your website ranking. There are several advantages to getting high-quality, reliable, and professional web hosting provider. Here's a list of the largest benefits of a rock-solid web hosting service such as;
When it comes to boosting online performance matters a lot; with fast loading speeds, you can build your customer's trust.  

In online business, customer support help to main your online performance. Your hosting company should be efficient enough to facilitate 24/7 customer support. 

You'll get a professional email address after buying web hosting services to build your customer trust. 

Website security is something that a lot of website hosts demand to run their websites smoothly. Although having a 100% secure website is nearly impossible, reliable and professionally developed

web hosting companies

offer their hosting customers the utmost level of security.

When trying to find the right hosting company, you've probably gotten 99.99% uptime. High uptime helps you to boost your search engine ranking.
Disadvantages
As expected, basic web hosting also has a couple of disadvantages when building a WordPress website. Below is one of the most common reasons WordPress site builders don't prefer to choose a simple web hosting plan to host their WordPress website. Such as;
Limited hosting features you will get in a basic web hosting plan that is insufficient to run a WordPress website smoothly.
In a basic web hosting plan, running more than one website per account is impossible.
A basic web hosting plan does not technically support WordPress users to install WordPress themes, plugins, and tools.
In the basic web hosting plan, server resources are shared between hundreds of other site hosts, and there is a great chance of being affected by other website performance.
Basis hosting plan sounds cheap, but it'll become too costly for WordPress users due to a lack of technical support and free WordPress tools.
How to choose the best hosting option for your business
Web hosting services play a vital role in building your website presence; If you want to boost your online presence from the very start, you'll need to measure up each web host you're considering whether they will meet your hosting needs or not
WordPress hosting services will make your life a little easier if you have a WordPress website. It can also be a smart choice if you don't have a technical background and want convenient WordPress support.
You must choose the most affordable option if you don't have a WordPress website. Choosing the right hosting plan will depend on your website hosting requirements and your experience level. You may also want additional WordPress features to establish your web identity. Before purchasing a web hosting plan, you might want to ask yourself the following questions:
Are you building a WordPress website? If not, WordPress hosting will not be the only option for you.
What's your budget?
Are you concerned about security?
Do you well-versed in WordPress, or do you need some hand-holding?
How much traffic do you expect?
There are more than 300,000 plus hosting providers all over the world. That's are all different based on their hosting plans, features, and prices. Here we are sharing some major factors that will help you to select the best hosting option to run your digital business smoothly. Let's take a quick overview;
To get started, it's a good idea to identify your website hosting needs. 

Confirm your subscription period for the hosting plan you are taking to run your website. You're likely to find monthly and yearly plans and discounted rates for multiple-year contracts.

Check your potential host Server's reliability and uptime guarantees they claim to be. If their uptime claim matches your expectation, then buy hosting from them.

Confirm your potential host's refund policy and guarantees. If that'll not match your pocket, move toward 

Verify your hosting provider's primary hosting features; it'll help you to make wise decisions to choose the best web hosting plan to make your presence smooth and updated.

Evaluate the available add-on hosting features to get a better online scope. That'll include free SSL, regular backups, customer email addresses, etc.  

Ensure your potential hosting provider offers E-commerce support to run an online store

 

that'll require even extra security measures for online transactions. 
Inquire which Kind of Control Panel you will get access 
Conclusion 
WordPress hosting is an excellent hosting solution for beginners and web developers to save your time and money on installation and purchasing WordPress plugins and themes. Indeed, WordPress hosting doesn't offer a fast page loading speed as you'll experience in the regular web hosting plan. Standard web hosting gives you more control over with essential hosting features that you need.
Although you may find a great difference between WordPress and web hosting price rates, most website hosts become fools after discounts on entry prices for all shared hosting packages, so check the features before finalizing your hosting deal.
Hopefully, today's blog post made it clearer to choose the best web hosting to host a business website. If you have any question, comment below.