7,862 total views
Every site host's dream will be an attractive website design and a well-coded website. You are developing a website to help rank your website on the Google search engine and avoid downtime. To the massive trend of online shopping in Pakistan, web development in Lahore is in its boom.
By getting the services from expert web developers, you will gain flexibility over your website's appearance and functionality. Professional web developers facilitate you on the utmost level to cut down on your workload as a site host.
Whether launching a new website or simply maintaining it, professional developers can save your time and ensure your site runs smoothly. In today's blog post, we'll figure out how to take you through how to hire a professional website developer for the business website within a limited budget. Let's start;
How Much Does An Experienced Website Developer Cost?
When you hire a website developer for your project, make sure the person fulfills your requirements. If the answer is yes, now it's time to negotiate costs.
Freelance experienced web designers and developers typically charge by the project or per hour, depending on their contract. The hourly rate of a professional web developer is based on their skills and work experience.
According to Upwork, hiring a freelance website developer and designer is $60 to $80 per hour, and an intermediate-level front-end developer meanwhile charges around about $40 to $55 per hour. However, their pay rate rises significantly as per their experience and expertise.
If you need high-quality web development services in Pakistan, you may find more cost-effective rates. Pakchamp Web Development Services start from 9,999/PKR. So don't be paralyzed, build your dread website, and get started to become a rockstar!
How To Evaluate Web Developers?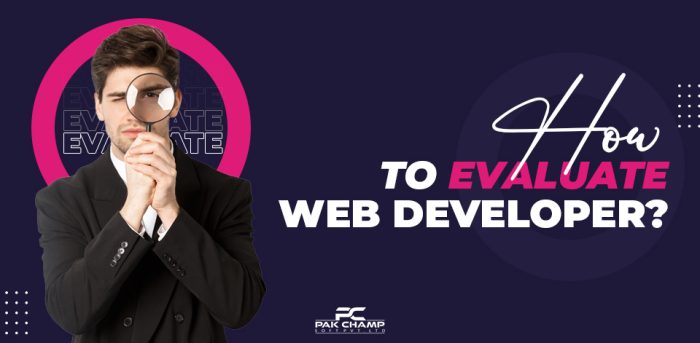 When you plan to hire a web developer, you should hire someone who only completely understands your niche and business motto. However, it's a daunting task for a website host to employ a developer, especially when you don't have a tech background. However, in this blog post, we'll discuss a few critical factors in hiring a professional website developer for a website. Let's dig out the key elements;
Technical Requirements
When you get front-end Website Developers in Lahore, they should know CSS, HTML, JavaScript, and common frameworks such as jQuery and Bootcamp. On the other side, back-end developers will be proficient with PHP, Python, Ruby, and more. Besides this, you can also want to search for a WordPress developer, Shopify developer, app developer, or even a mobile developer. It all depends on your project or niche.
Response Time
Not only technical skills are matter in website development. When you are short-listed, a web development company or developer pays attention to their response and how quickly they respond when you first contact them.
Communication Skills
When you hire a developer for your website, ask specific questions yourself at first;
Are they clear communicators?
Are they completely understand what you want?
Do they have previous experience in the niche?
Do their services fulfill your business needs?
Above mentioned, all questions and answers you will get when you start communication with them.
Experience
Suppose you want to get the best web development services; you have to consider an experienced web developer. They tend to work more smartly than inexperienced developers. When you hire, evaluate their previous work experience and projects and what kinds of companies they worked for.
Customer Ratings & Testimonials
To analyze their previous work quality and rating, you can consider their customer ratings and testimonials. Most developers offer professional web development services on international platforms like Upwork and Fiverr. Reading reviews and singe of praise will give you a better idea of their work and quality.
Benefits Of Hiring Professional Web Developing Company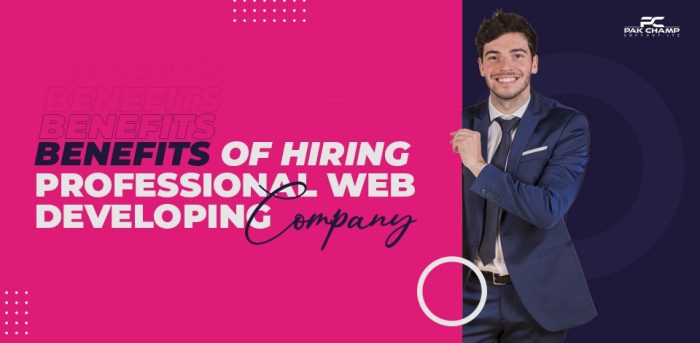 The growth of technology is changing our lifestyle. With the rapid growth of web development, it's become one of the most attractive fields in the tech industry. Here is today's blog post; we compiled a list of benefits of hiring a professional web developer for your project. Let's move to the next section to discover the help of an experienced website developer;
When you get the services of professional Web Development Services in Lahore, you'll get experts assistance support throughout your project. You will expect answers to your queries regarding improving, maintaining, and bug fixing your website.
A professional website firm will allow you to meet your business goals with long-term planning.
By hiring a website development company, you are ensured to get the final product on time. Companies have unique techniques to build good-quality websites that deliver on deadlines.
When you hire a website development company for your website project team of professionals such as designers, marketing experts, and SEO consultants keenly analyze your project.
For a smooth website experience, your website must be SEO friendly; web development companies also provide pak SEO services and marketing help to boost your online business.
The company's experienced project managers keep you updated and reply to the progress of your project, so you can sit back and relax and leave your project in the hands of professionals.
Hiring a professional developer or taking the services of a web development company can help you keep your website looking professional and running smoothly. Whether you're editing your WordPress theme, removing malware, or adding new features experienced website developer can help you achieve your goals quickly.
If you want to build your website, you can contact Pakchamp web development in Lahore. Our well-packed professional developers and designers love to assess you to fulfill your business dream!