Website hosting is One of the most integral parts of online business, but it is often overlooked. If you choose WordPress hosting services, your service provider provides all of the necessary tools and services that help you to improve your Google ranking and increase your business revenue. This blog post will briefly explain why Pakchamp WordPress hosting n Pakistan is a perfect choice for your small business.
If you're a newbie and you don't have an idea about the online business, it might be challenging to know where to start. Your website hosting and business requirements are critical for the safest online business understanding. Before starting your online business, you have to complete your domain and web hosting services homework to save time and money.
If you start your new website shared, WordPress hosting is the best hosting solution for your online presence. It'll be less expensive, easy to manage, and provides enough capacity for your small business website. Pakchamp web hosting company offers easy upgrade hosting policies from WordPress to a dedicated server to get complete control over all resources (bandwidth, disk storage, and CPU use).
Now we'll move to the main topic, to discuss why WordPress hosting solution is best for small business websites.
Content Table:
Why does a small business need a website?
Why is WordPress the best CMS for small business websites?
What Do You Need to Consider In a WordPress Hosting solution?
Conclusion
Why Does A Small Business Need A Website?
Let's assume you are running a boutique, and a person near your boutique searching for a ready-to-wear dress can easily approach you with the help of his smartphone. If you don't have an online presence, then your potential customers can't able to approach that is just near to your boutique. So, you may lose your valuable customer.
To get high leads, you need to promote your business and make it visible on all digital media segments.
In Pakistan's digital industry's current competitive business scenario, it becomes equally important to open a website at the starting opting of your business. It'll help you to get a kickstart to your business.
WordPress As CMS For Small Business Websites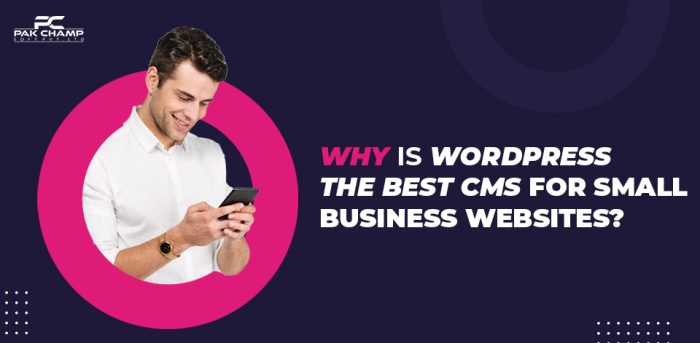 WordPress is the best CMS for small business websites due to its features. After immense demand for online business, every entertainer wants to showcase their brand and services on the digital marketplace. To manage websites, they need web developers to make even a small change to their content and too costly websites. After the arrival of WordPress, content management is now straightforward for WordPress users.
WordPress is the most popular and reliable content management platform. According to Pakchamp online customer record statistics, approximately 60-70% of our clients ask for WordPress, and more than 60% of online websites are made in WordPress.
WordPress is an open-source tool for website development and content management system. It'll offer a ton of customization and free security features with various plugins that you can choose from as per your website requirements.
What Do You Need To Consider In WordPress Hosting Solution?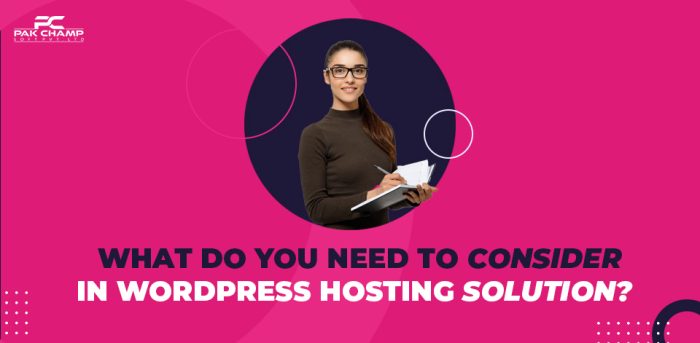 In this section of the blog post, we'll start wading through the deep pool to briefly guide you on what you'll ultimately consider while choosing a WordPress hosting plan.
Before finalizing your WordPress hosting provider, you may consider three queries in your mind;
How fast is their web hosting service?
Are they offering 24/7 customer support with a money-back guarantee?
How secure is their hosting infrastructure?
To enjoy fast, reliable web hosting infrastructure, you have keenly look at your WordPress hosting provider, such as;
Speed
Speed is one of the critical components of online business. If you're a hosting company familiar with WordPress and optimizes its services for the platform, they should have to provide you with excellent speed.
To increase your WordPress website speed, you need the proper disk space, memory, and processing power to operate WordPress efficiently. Pakchamp offers fast rocket speed to make your site even faster via page caching, cache preloading, and compression of static files, with multiple other quality hosting features. Getting a high-speed website is not a dream; it'll be easier with Pakchamp than ever!
24/7 Customer Support
For a smooth hosting experience, customer support is necessary for website hosts to resolve website issues. It'll only be possible when your service provider offers you round-the-clock hosting support—every minute when your site is experiencing hosting-related problems in online business costs your money. We always recommend you choose the best web hosting company in Pakistan that claims to offer a 24/7 dedicated support system via mail, live chat, or contact number.
Website Security
A small business website is the first attack by cybercriminals. To avoid possible malicious attacks on your business website, you need to know the WordPress hosting option you choose for your website's security and customer data. To secure your website, you can get premium security by getting an SSL certificate from Pakchamp to avoid the possibility of cyberattacks.
Disk Space
Your website data will be stored on your web server. To save your website data, you should consider how much disk space or storage your potential hosting provider will offer. To avoid any unpleasant surprises, have to check whether the disk space matches your hosting requirements or not.
Hosting Multiple Domains
What is the total number of domains you intend to host on your WordPress website? Web hosting companies allow you to host one domain or website in basic WordPress hosting plans. If you plan to host more than one website, you won't be able to do so with the WordPress hosting basic plan. So, we recommend you opt WordPress business package to meet your hosting needs.
99.99% Uptime
To strive best services for your online customers, you need a 99.99% uptime guarantee to fulfill your business goal. Less than 99% is considered undesirable in online business. Before buying a hosting plan for your online business, compare hosting companies' uptime scores and finalize based on your result.
 Cost 
due to the immense growth of the online business, you'll find significant differences between hosting prices. Do compare your hosting cost, and don't be deceived by the low cost. Some unprofessional or new hosting companies come with enticing at first, but you may spend more in different ways later on. Take a look at whether your hosting plan fulfills your hosting needs. Some web hosting companies offer a special discount on their initial year, but the price might skyrocket when the first contract expires. So do, double-check companies' previous policies regarding pricing!
Upgrade Potential
When your business grows, you may need to upgrade your hosting plan. Do consider those hosting companies for your business website. They offer easy upgrading policies!
Your online business needs easy-to-manage WordPress hosting services to establish your web identity. As an entrepreneur, it is your responsibility to make wise decisions to establish your strong web identity. So don't overthink it; buy WordPress hosting in Pakistan and enjoy all its features of it!
Hopefully, today's post answered all your queries in regard-why small businesses should consider WordPress hosting for their business website. If you have any questions or suggestions, leave them in a comment box, our WordPress specialist love to assist you!