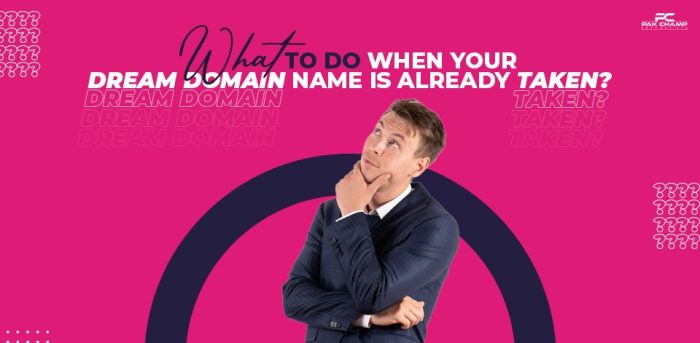 Starting an online business is every entrepreneur's dream if you are one of them! Mark your digital presence by getting a relevant domain name.
A domain name is your online address, just like your home address.
Come up with a unique, simple, small, and relevant domain name.
To showcase your product and services in your targeted market, you need cyberspace to register your domain name.
To register a domain in Pakistan, you can rely on Pakchamp. We are one of the leading and reliable web and domain hosting companies in the Asian region by managing more than 100000 domain extensions with name privacy and protection at competitive prices.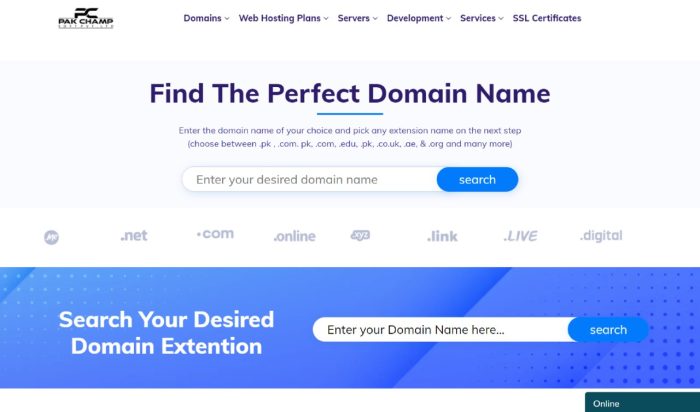 Enter your dream domain name on Pakchamp's free domain checker to check its availability. However, sometimes you get unexpected results.
Unavailable: x
It means; Your dream domain name has already been taken.
Don't need to disappoint!
Are you one of them, who is experiencing such disappointing situations? If yes, Active your think tank. Rethink your domain name and check it in the domain search bar. If you find a close option to your dream domain name, that's great, but if you don't find any relevant option, then you must struggle long to get your required domain name to build your web identity.
Domain names play a vital role in targeting a relevant audience on search engines. A relevant domain name helps to boost your SEO performance and helps to establish your brand identity.
A large amount of traffic on your website you'll experience via navigational search- use the brand name as your website URL to get high traffic.
New website hosts or entrepreneurs are mostly confused at the start; how to pick a domain name?
Don't be confused;
In today's blog post, we'll share a few easy tricks to get your desired domain name that is already taken. Let's discover some helpful tricks to buy your dream domain name;
10 Easy TricksTo Get Your Dream Domain That's Already Taken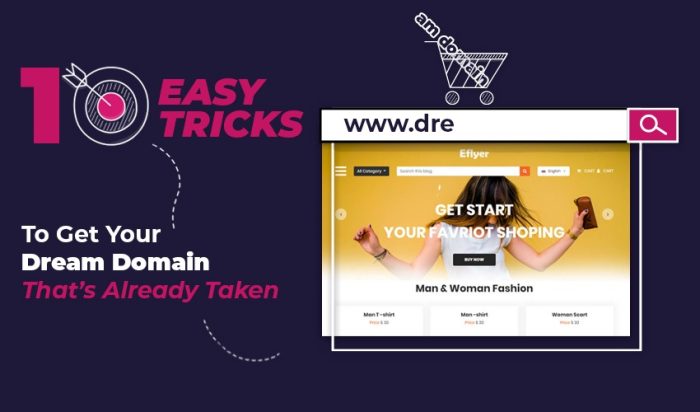 When you are in search of your dream domain that is already taken, you have to prepare yourself to follow the below-mentioned tricks to get your desired domain name. Let's dive into the next section to get details;
1. Contact To The Domain Owner
To get your desired domain, you need to contact the domain owner first to make him prepare to sell the domain. There are pretty chances your required domain name is no longer in use.
When you visit your desired domain name, you may experience something like this;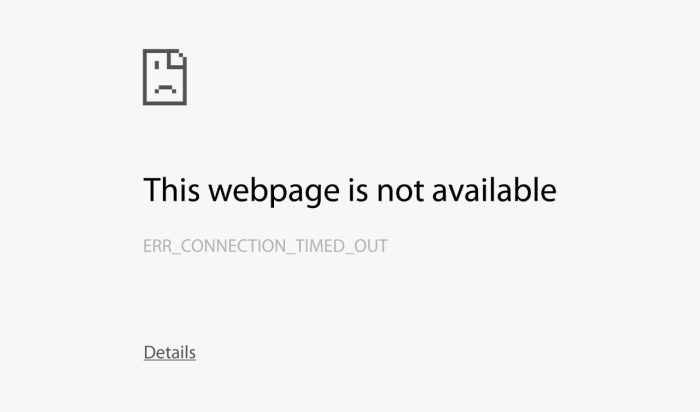 If you experience the above-attached image- congratulate!
It means the domain owner isn't using it, now you can buy your required domain name without paying extra money.
If you receive the opposite result, from the above image, and your domain is already in someone's use then you have to contact the site owner to get your required domain name. to find the contact details you can use Whois.com.
They log all kinds of information about domains. Whois an international registry of domain names. You'll be able to see the domain owner's contact details after entering the potential domain name. If you get the owner's content number, you will directly deal with him.
If you don't have any contact, then you can check it on some famous marketplace such as; Sedo and Flippa. There are also pretty chances your required domain is already for auction.
2. Choose A Different Domain Extension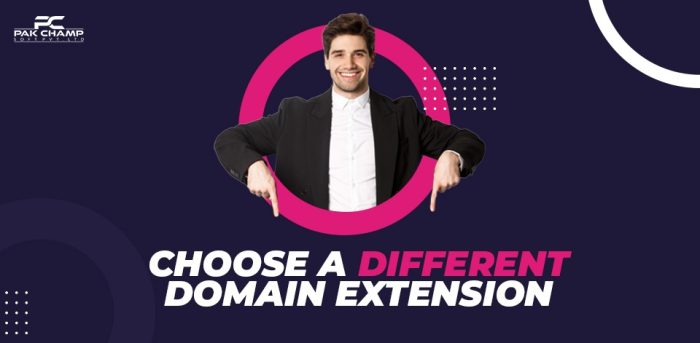 If your required pk domain extension is already taken, you have a wide variety of other alternative domain extensions.
For example: if the .pk domain is not available, be patient!
Not all websites end in a .pk domain; you are 2nd TLD option to choose because;
There is a will, there is a way…….
Selecting the. com. pk domain extension, you can showcase your brand on the digital market in the same spirits.
By searching on the domain search bar, you may have more domain options to host your website or business in the best possible way.
To check alternative domain extensions, you can use Pakchamp's free domain checker to check your expected domain. Check whether the alternative TLDs are available or not. You can try different expected domain extensions until you get one that'll fit your business needs.
3. Make Small Changes
If your dream domain name isn't available, you can make a simple change by using a relevant keyword. For example, if you find that 'catfood.com' is unavailable, you might find that 'catfoody.com' is available. You can try different domain extensions and options until you find a relevant name.
Before starting your domain research, you have to get an idea of how to choose a relevant domain name. you can fill the gap in your domain search by using relevant keywords or by adding small changes to your domain name.
4. Expand Your Brand In Your URL
When you add or fix relevant keywords that refer to your product and services, there are great chances to get a high boost. The word cat in catfoody.com- refers to the specific animal category because the word "cat" is a natural extension of its host.
Expanding your website URL help to build your customer's trust in your website. This trick helps you to build your brand identity in your website's URL without sacrificing its meaning and concept.
5. Consider Counter's TLD
As we all know very well .com domain extension is most popular worldwide, but we can't deny the importance of country code TLDs (ccTLDs), especially in the Asian region.
For some reason, ccTLD for the Pakistani (.pk) gets good as compared to .com or other domain extensions while targeting a local audience. If you want to target a particular Pakistani audience, you can buy .pk domain/.com.pk domain. These 2 domain options are one of the top-rated domain extensions to target local Pakistan online audiences.
ccTLDs help to build customer trust because online users prefer to make purchases from local and familiar brands rather than foreign brands – because they don't know about the brand quality and standers.
It means the country's TLD increases its brand value and customer trust, especially in the Asian region.
6. Use Alternative Keywords 
 One way to keep the domain name you want is to alter your keywords. If you want a top-level domain, we suggest you come up with a new idea for your domain name. It is best instead to launch your website with the same close name that already exists.
Building your brand name, always prefer to come up with short, unique, and memorable that reflects your business.
7. Experiment With Short Forms/ Abbreviations
When your dream domain name is already taken – Alternatively, you can use short form or abbreviations in your website URL to change your entire business name without losing searchability or SEO.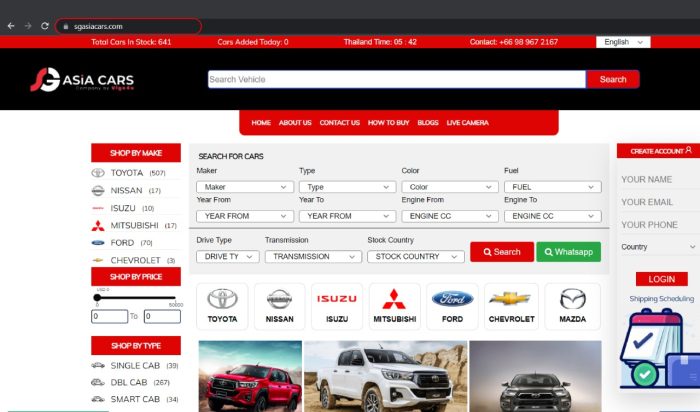 SG Asia is a top Toyota dealer for new and 2nd hand cars in Thailand. Its owners use their names first alphabet in their website URL. In SG Asia; S-stand for Shaheer & G-stand for Gain. This is also very common to add the owner's name to the website.
8. Use Hyphen (-)
Although most online buyers don't like hyphens because it's not easy to remember. If your dream domain name is already taken, with minor changes you can get your desired domain that you already missed.
Sometimes adding hyphens in your desired domain name make sense to get a high boost on search engines.
In our personal opinion, this is good use to add a hyphen in your desired domain when the non-hyphenated domain is already claimed or registered by someone else. Example: Austin-Blades.com
Although most entrepreneurs hesitate to add hyphens in their domain names, some entrepreneurs build their web stories by adding hyphens in their domain names, like; Austin-Blades.com.
9. Domain Monitoring
If your mind is still fixed on your dream domain and you don't interest in following all of the above tricks and techniques- it's okay.
If your dream .pk domain is already registered, then the next best thing is to monitor the domain to check when it will expire.
You can keep an eye on its expiry date by using a domain monitoring tool. When it'll expires, and its owner doesn't renew it, you can swoop it and register it at its regular price without spending extra money.
10. Legal Action
If you own the trademark in your domain, you may have an option to take legal action to claim the domain name. This generally applies only if someone offers similar goods or services and if they start using the name after you.
All the above-mentioned tricks are the easiest way for domain registration in Pakistan that is already taken. For this, it's time to plan your next move to get your desired .pk domain. We'll recommend you develop a few backup names and extensions if your dream domain extension isn't available.
I hope you'll explore something informative in today's blog post. Do share your suggestions and queries in the comment box to get experts' opinions. Our hosting experts love to assist you!
Find Your Dream Domain Name!
Do you plan to showcase your product and services on the internet? If yes, Grab your dream domain today from Pakchamp web hosting at competitive prices. If you want to get more details, check our domain policy to register your domain name. You can also check the availability of domains name on Pakchamp's free domain tool to take one step forward to your business dream!
More Resources:
Beware Of Cheap Web Domain Registration Providers