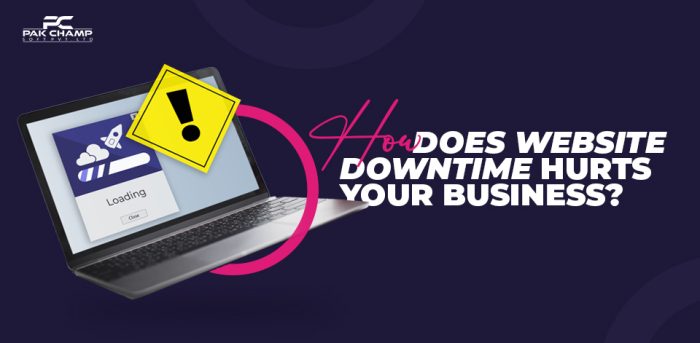 People living stander rapidly change due to immense advancement. Now business is open 24/7. This drastic step makes the entrepreneur line easy to operate a hassle-free business online. Do you ever think about what'll happen if your business face downtime on your website? Do you know unplanned downtime is a possible threat to your sales and revenue no matter the size of your business? Don't worry; Pakchamp web hosting in Lahore offers reliable hosting services to establish your brand identity in your marketplace.
According to expert analyses; 
The average Downtime of the website can cost around $686,000 per hour if we sum it around about $60 million per year. It means website downtime loses around $26 billion in revenue every year without including losses from lack of employees' productivity and machine error costs.
Round about 70% of revenue small business companies lose due to downtime. Only 2% of companies can recover from their downtime issue within 24 hours. Website downtime is the main reason for unprofessional web hosting providers and their poor hosting service.
Today's blog post will briefly guide you on how your website Downtime will badly affect your business. Before jumping to the main point, we'll get an idea of what is a website downtime? So, stay with us to get brief details;
What Is Downtime?
Downtime is a term used to describe your website is not accessible to your users. Even if you enter a valid website address in the browser, your website won't open. Due to an inactive system of productivity and usage, the sales website host is financially affected by Downtime and may lose his potential customers forever.
There are 2 main types of website downtime;
Planned Downtime
Unplanned Downtime
Planned Downtime –results of maintenance
Unplanned Downtime –website system's unable to perform due to an unplanned event such as; server, network failure, database error, and any other hosting issues.
What Are The Reasons For Website Downtime?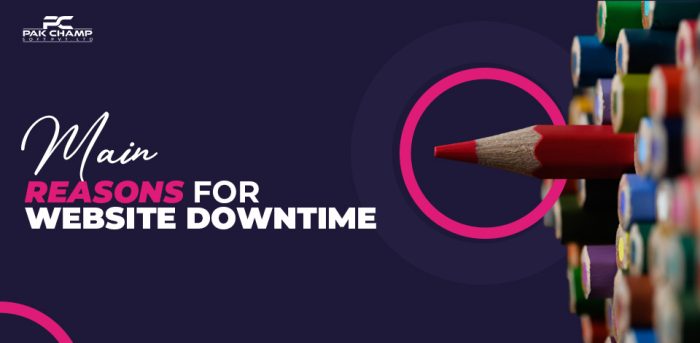 Website downtime has various reasons, but it may badly hurt your business reputation and stop productivity. Here we'll discuss various reasons for your website Downtime; let's check the main causes;
1. Software & Hardware Failure
The IT industry is going to improve with each passing day. Due to immense advancement in the IT field, most IT-related damages occur due to software and hardware malfunctioning. These circuit components can malfunction, which binds the traffic volume coming to your website. Malfunctions can be caused due to short circuits, wire breakdowns, continuous fluctuation in supply, etc. If your web hosting company doesn't have a strong hosting infrastructure, it is easily prone.
2: Low-quality Web Hosting Services
 web hosting companies play a vital role in encountering the drawbacks of website downtime. You'll hamper both financial returns and potential customers' digital credibility by buying cheap and unprofessional hosting services.
Poor server management from the hosting provider's side can lead to website downtime. You can minimize downtime risk factors by getting Pakchamp web hosting services in Pakistan with a 99.99% uptime and 10-day money-back guarantee to meet your hosting needs.
3. CMS Issues
Your website can experience downtimes due to CMS (Content Management systems). The issues may arise from installing incompatible plugins, modules, and extensions to database errors and internal conflicts within the software installed. These issues can cause your website to be completely down or load partially.
4. DNS Issues
You'll experience your website Downtime if there's an error in DNS configuration when you misspelled your name-server; your site can be down.
5. DDOS Attacks
A DDoS attack is a cyber-attack. The perpetrators seek to make server resources unavailable to their intended users by overwhelming the target server due to flood internet traffic. This incoming traffic flood usually originates from different sources.
Sometimes your site isn't the intended target, but your site shares the same server with the target website if you're on a shared hosting plan. You may face severe Downtime when your site becomes the victim of collateral damage just because the site's host was the target of the cyber-attack.
6. Cyber Attacks
With rapid advancement, everything is getting digitalized, but there are still risk factors involved in online business from the side of cyberattacks. Hackers always keep focusing on business websites to target them. Your website downtimes can be caused due to DDoS attacks, which the hosting provider shall always monitor. External malicious hackers initiate the DDoS attack by sending excessive requests to the host server that'll cause a website's Downtime or crash.
There is a will there is a way, to protect your website from possible cyber attacks,  you can follow  11 Security Tips To Protect Your Website From Cyber Criminals as precautionary measurement.
7. Irregular Maintains
If you aren't regularly updating your scripts and plugins, your website may face catastrophic Downtime. To save your data, you must always ensure everything is working properly on your website. Don't let your website have unresolved queries because it'll lead your website to unexpected Downtime.
How Is Downtime Bad For Your website or brand credibility?
Online accessibility is crucial to establishing your credibility with your users in online business. Your few seconds delay can result in potential customer loss and sales.
We have mentioned some of the main ways. Downtime will affect your website and business credibility. Let's check;
 High Bounce Rate 
Google considers website uptime as a ranking factor. If your website takes more than 3 seconds to fetch a single URL, it'll impact your customer and SEO ranking. Google analytics favors fast and without error websites. The slow server response will be the cause of a higher bounce rate. Online customers usually leave such websites if they have a high bounce rate or take more the 2 to 3 seconds to download a page.
A high bounce rate will badly hurt your web identity.  Do you know; How a High Bounce Rate Affects Your Online Business & How You Can Fix It?  There are several Tips To Reduce the High Bounce Rate, by following such tips any site host can decrease his website bounce rate and get better leads on search engines.
Your Profits Will Take A Hit
More than 50% world's population is online. However, your potential customers will leave even in mid-purchase if your website is constantly down. Imagine running an ads campaign, and when your potential customers land on your site, if it's slow or inaccessible, there will be great chances to lose your customer.
How To Prevent Downtime?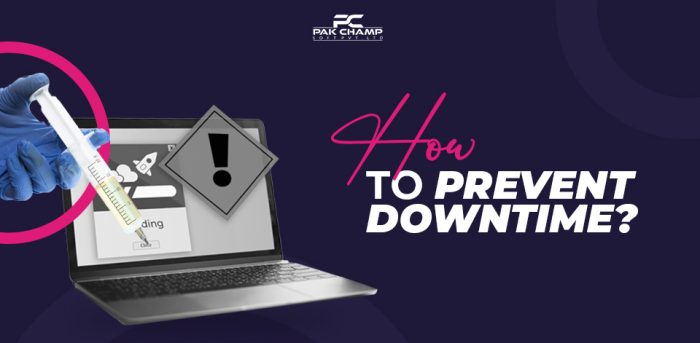 If you want to build your strong web identity, you need to opt for fast, secure, and efficient website hosting services in Pakistan. Your web hosting provider significantly helps to reduce Downtime. Besides web hosting services, you can reduce your website downtime by implementing tools and software. Here in this section, we'll are sharing some tips, so let's check;
1. Choose A Reliable Hosting 
Low-quality web hosting services can be the main reason for Downtime. So, when you decide to create your website, choose the best web hosting company in Pakistan that'll provide 24/7 technical assistance to meet your hosting needs.
2. Confirm The Reason
To resolve your downtime issues, you first need to get an idea about the main causes of your website Downtime. Multiple factors be a reason for Downtime, such as; hacking, traffic overload, and server problems resulting in Downtime. However, once you have confirmed, resolve your site issues on priority.
3. Uptime Monitoring
Technically a site host can't monitor the website 24/7 physically. To monitor your website's online performance, you can implement a website monitoring tool to check your website's track record offline. This makes it easier for you to fix the issues on short notice.
4. Regular Backups
In online business, you have to equip yourself to face unforeseen issues and their solutions fully. When you buy hosting services, make sure your hosting provider does offer regular backup services in the hosting plan. It'll help restore your data and have your site up in no time in case of a hacker attack or any other issue.
5. Use Social Media 
You can cover your Downtime by using your social media profile. In an online business, your customer is your asset, so when your website is facing Downtime, you can cover your potential loss by smartly using your social media channels.
Website speed is one of the main metrics that Google considers in ranking. Downtime can affect Google's algorithm because a friendly user experience is the top priority of Google. Your website plays a critical part in your overall success. You can fix your website downtime issue wisely by implementing different techniques.
If you require any assistance in fixing your website downtime, increasing site speed, or need to build a fresh website, please get in touch with the Pakchamp sales team. We'll love to assist you!
More Resources: